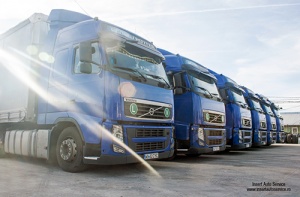 By general cargo shall mean a very wide range of goods and products. Basically this category includes all goods which may be transported from one point to another with a means of freight transport standard. In the category of general cargo are not those goods which, owing to the properties of the characteristics, dimensions, volumes or weight may not be transported only by means of transport specialized agencies or authorized.
The general goods may be transported at both transport fully FTL () and groupage
(LTL).
Insert Auto Service provides solutions in the transport of general cargo trucks with tarpaulin or vans closed by various capacities from groups for goods of dimensions and weights reduced up to large quantities of the order of this theory on various routes international traffic at both export and import, as well as on the national territory.
Insert Auto Service guarantees the quality of the services through professionalism, brought into attention, flexibility, communication, and the permanent concern that his means of transport to meet the best security requirements and the equipment.